Enjoy More Storage Space With SpaceBag - Hanging Compressible Clothes Storage Bag
Maximize your space and keep your house organized. SpaceBag is perfect for storing large, bulky, or outdated clothes in the closet while preserving them for future use. This durable, space-saving vacuum-sealed storage bag is made of multiple layers of material to protect your clothes from water and odors, making them ideal for long-term storage. The special 3-ring design can easily accommodate up to 3 suits Jacket, clothes are clearly visible, so you can quickly find what you want.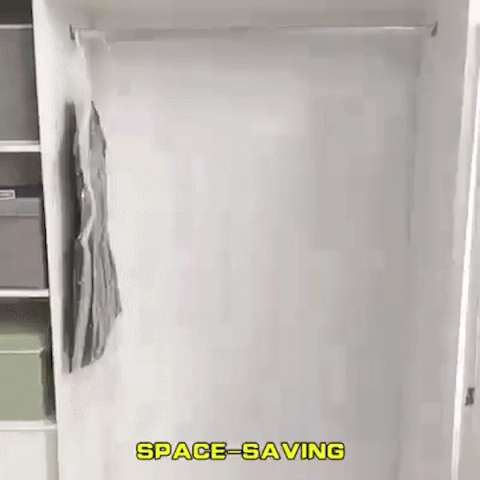 Once sealed, your bulky clothes become thin as pancakes! You can effectively triple the available storage space to create more room for your clothes in the same wardrobe! SpaceBag will keep your wedding dress and seasonal coat neatly stored and well preserved well into the future so you won't have to throw any old clothes ever again!
FEATURES:
EXTRA LONG AND PERFECT PROTECTION -

This is a great space-saving idea for packing bulky season clothes and adding more storage space to your closet. With the clear bags and 5 hooks hanger design, you still can make out what's inside.
LASTING AIR-TIGHT -

The unique double-zip seal and non-return valve ensures no air gets back in. You can identify the garment bags are sealed. The valve is in the middle of the vacuum bags, which is easier to operate than on the top of the bag.
REUSABLE AND DURABLE -

Our space bags are made of premium PA + PE material, softer than other space saver bags on the market, and can be reused multiple times. They are perfect for long-term storage, keep clothes from odor and water.
EASY TO USE -

Hang the space-saving bag in your closet first. Add your clothes to the hanger rings. Seal the bags with the provided clips. Place the hose of the vacuum pump over the valve and vacuum the air out. Close the caps to create an air-tight seal.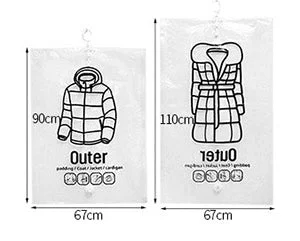 Equipped with manual air pump