A NEW STYLE FOR YOUR PARTY
Serving Drinks In Your Own Way Helps Create New Inspiration and Bring Everyone Close To Each Other. Especially, This Game Will Be More Fun If Organized During A Camp, Picnic, etc.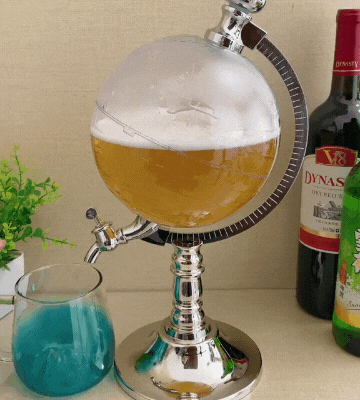 Selling points
GLOBE DECANTER
A CREATIVE DESIGN
The globe design gives an eye-catching drink display2
LARGE CAPACITY OF 1.5 LITERS 
Feel free to keep red wine, bourbon, whiskey, scotch, vodka, rum, etc. or any of your favorite drinks
CREATIVE GLOBAL CREATING
Simulation of a Mini Globe Model makes for an eye-catching presentation
The decanter can pour the drink itself. You do not need to hold it with your hands – Easy to use and saves your energy
The airtight lid stops the air out of the decanter to preserve the flavor of the drink
Made of the food grade plastic that is shiny, stainless steel, highly durable, anti-breakage
GOOD MATERIAL FOR GOOD HEALTH
The high-quality material is super durable, super strong, ensures both health safety and the durability of the product.
An Exquisite Combination Of Luxury, Nobility and Professional Class
It is a utility and a decorative item to highlight your luxurious space as well. A decorative item cannot be found anywhere else
PRODUCT DETAILS
Product size: 21.5*15*33
Ball diameter: 14CM
Packing size: 16.5*16.5*34CM
Volume:1.5L
Weight:0,7kg